George Weah Invites Arsene Wenger To His Inauguration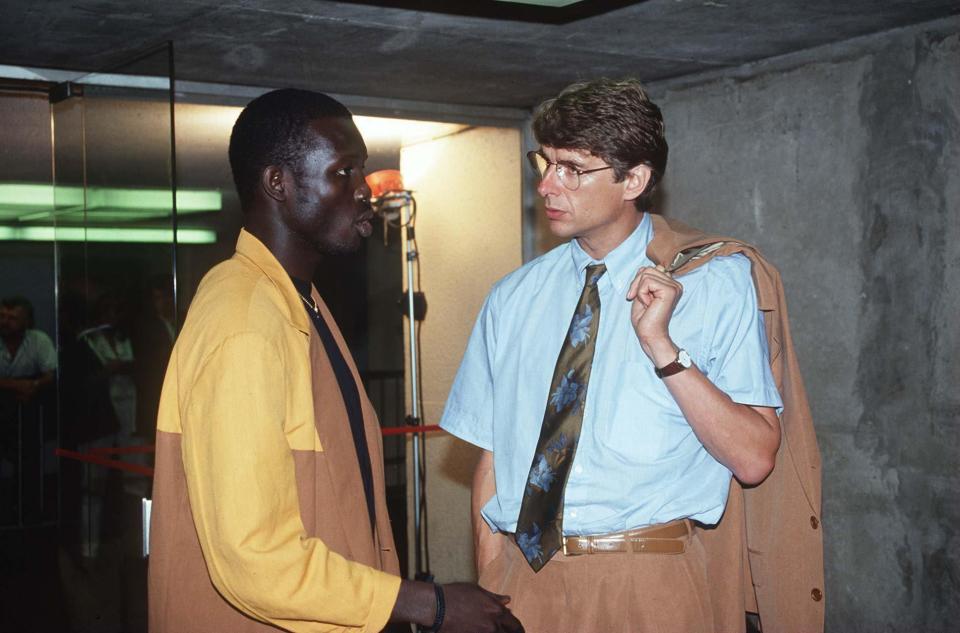 Arsenal Manager Arsene Wenger has revealed that he has been invited by the in-coming Liberian president George Weah to his Inauguration on January 22nd.
While at a press conference before his 3-match touch-line ban, Wenger revealed that he had been invited to his protégé's Inauguration while taking a cheeky dig at the Football Association.
"I have been invited by George to come the day when he will be made president maybe if I am suspended, I will have time to go."

Although it's highly unlikely that the Arsenal gaffer will attend in person, his words surely prove he holds Weah in high regards. Comparing Weah's life to a film script, Wenger lavished praise on his former star saying he's a shining example to all footballers.

"When you look at his life, the life of this guy is like a film. It's unbelievable. It's a fantastic film."

"I remember when I saw him for the first time in Monaco, looking lost, not knowing anybody, not being rated by anybody as a footballer, yet became in 1995, he became the best player in the world and is now president of his country. It's unbelievable".

"He was always strong mentally, convinced he has a mission. When he played at Monaco, it was during the time of war in Liberia and I saw how much he suffered with his country".

"The love for his country and his people, and the care he had for his people. Today when I look back, I have seen him crying when the war was on".

"But this is a happy story, I wish him a happy presidency and I would like to say, this guy is an example to everybody who plays football".
George Weah's story started in Cameroon when Arsene Wenger flew in from Monaco on invitation of Coach Claude Le Roy to watch him play. Wenger was impressed by the 22-year-old at the time and brought him to Europe in 1988 where he signed him immediately.
Despite leaving Arsene Wenger in Monaco, Weah has often credited the coach for having had the greatest influence on his career.
Weah went on to play for Paris Saint Germain and AC Milan, where he become the first non-European player and only African to win the Ballon d'Or.
Upon his retirement, Weah took the less traveled road and joined politics. After several unsuccessful attempts, Weah was this December elected to be the 25th Liberian President after beating former vice president Joseph Boakai with more than 60% in the presidential run-off election.
Photo by EMPICS
(Visited 27 times, 1 visits today)