A look into the Careers of the Six Provisional 2018 World Cup African Referees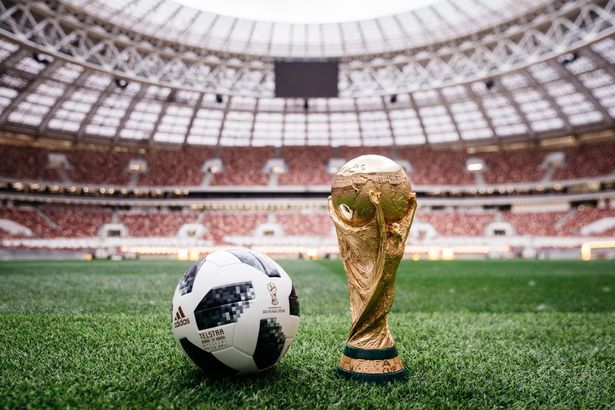 World Football governing body, FIFA, named a provisional referee list for the upcoming 2018 FIFA World Cup due in Russia. Of the 36 that made the list, six are from Africa with notable names left out of the list: there is no Nigerian or British referee on the list either.
The final list will be announced in February 2018 as we take a look at the careers of the six African referees that made the provisional list.
Mehdi Abid Charef (ALGERIA, 1980)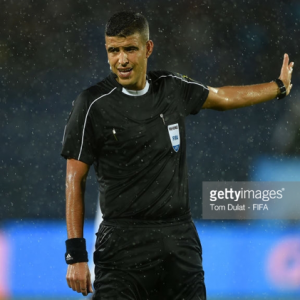 Referee Mehdi Abid Charef during the FIFA U-17 World Cup India 2017 Quarter Final match between Mali and Ghana at Indira Gandhi Athletic Stadium on October 21, 2017, in Guwahati, India. (Photo by Tom Dulat – FIFA/FIFA via Getty Images)
The Algerian referee began his career in 2005 and was selected for the FIFA panel in 2011. In the same year, he took charge of the Algerian Cup final and has since gone on to officiate many international matches. In his 50 international matches, he has awarded 17 penalties, given 8 red cards and 143 yellow cards. He has officiated World Cup Qualifiers, CAF Confederation cup, CHAN, CAF Champions league and CAN. He has also spent eight seasons in Ligue 1
Malang Diedhiou (SENEGAL, 1973)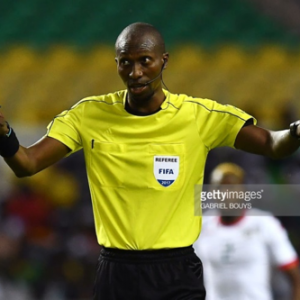 Senegalese referee Malang Diedhiou reacts during the 2017 Africa Cup of Nations semi-final football match between Burkina Faso and Egypt at the Stade de l'Amitie Sino-Gabonaise in Libreville on February 1, 2017.
The Senegalese referee has been International since 2008 and has also taken charge of many international games in international competitions ranging from the World Cup 2018 Qualifiers – Africa, CAF champions league 2017, AFCON,  CAF Confederation Cup, and World Cup 2015 U17, among others.
In his 33 matches, he has awarded 10 penalties, handed down 3 red cards and 59 yellow cards.
Ghead Grisha (EGYPT, 1976)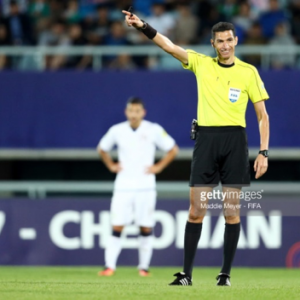 Referee Ghead Grisha during the FIFA U-20 World Cup Korea Republic 2017 group D match between Japan and Italy at Cheonan Baekseok Stadium on May 27, 2017, in Cheonan, South Korea.
The Egyptian has taken charge of various international competitions including World Cup 2018 Qualifiers, 2017 U-20 World Cup, CAF Super Cup, CAF Champions league, AFCON 2017, Olympic Games among others. In his last 66 international matches, he has awarded 19 penalties, handed down 6 red cards and 221 yellow cards
Bakary Gassama (GAMBIA, 1979)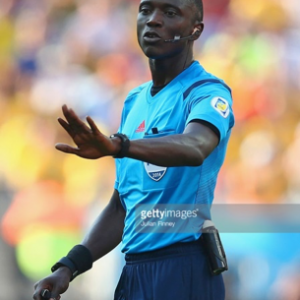 Referee Bakary Gassama gestures during the 2014 FIFA World Cup Brazil Group B match between the Netherlands and Chile at Arena de Sao Paulo on June 23, 2014, in Sao Paulo, Brazil.
The Gambian referee got his breakthrough after three years on the international panel when he officiated the quarter-finals during the 2012 African Cup of Nations. He was then selected for the 2012 Olympic Tournament and officiated a group qualification match during the 2014 World Cup in Brazil. Other recent high profile tournaments he has taken part in are; World Cup 2018 Qualifiers, Confederations Cup 2017, CAF Champions league 2017, AFCON, and Club world cup.
He has taken charge of 97 international matches and awarded 14 penalties, 10 red cards, and 258 yellow cards.
Janny Sikazwe (ZAMBIA, 1979)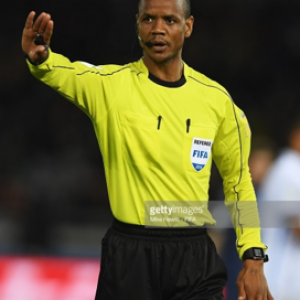 Referee Janny Sikazwe signals during the FIFA Club World Cup Play-off for Quarter Final match between Kashima Antlers and Auckland City at International Stadium Yokohama on December 8, 2016, in Yokohama, Japan.
Possibly the most decorated of the six, the Zambian has taken charge of 92 international matches and in those matches, awarded 21 penalties, dished out 7 red cards, and 292 yellow cards. The recent tournaments he has taken part in are; the 2018 World Cup Qualifiers – Africa, 2017 U-20 World Cup, CAF Confederation Cup, AFCON 2017 final, and Club World Cup 2016 final.
Bamlak Tessema (ETHIOPIA, 1980)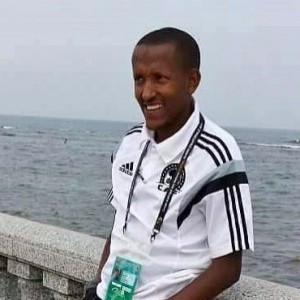 Twitter
On top of being a referee, Bamlak Tessema Weyesa is a medical researcher, a clinical coordinator, and a sociology graduate. He has been an International since 2009 and he took charge of his first match in 2010. The Ethiopian has also taken part in major international competitions including the World Cup 2018 qualifiers, World Club 2017 U-17, CAF Champions League, CAF Confederation Cup, AFCON 2017 and CECAFA Cup 2010 final.
He has awarded 11 penalties, given 3 red cards and 131 yellow cards in his last 61 international matches. If selected, he will be the first Ethiopian since the 2006 World Cup to officiate at the World Cup.
Featured Image: Adidas
(Visited 36 times, 1 visits today)