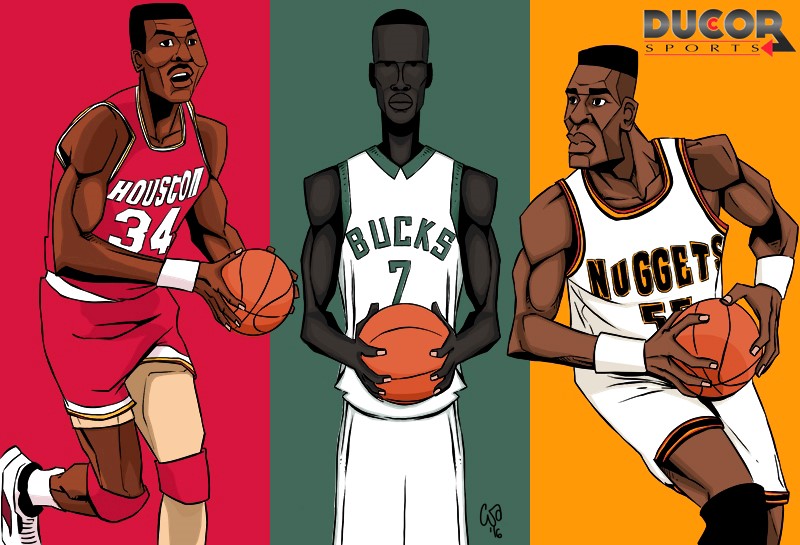 Thon Maker, and the Twin Towers of African Basketball
Over the years, the NBA has benefited from the undeniable talent of African-born basketball players. The annals of NBA history echo with their greatness. This year, the NBA drafted promising African stars of similar descent. Heralded among them is Thon Maker, an intriguing Sudanese player who shocked the basketball world when the Milwaukee Bucks selected him with their 10th overall pick, hence becoming the first prep-to-pro player drafted in the first round since 2004. Now, we wonder, does Maker have what it takes to surpass the greatness of those who came before him? For answers, we look to the old African adage, "to know where one is going; you must know where one is coming from."
First, we must consider the legends before we look at the protégé.
Strolling down the hallowed memory lane of NBA history, the most revered sons of Africa have to be Dikembe Mutombo and Hakeem Olajuwon. Born in Léopoldville, DR Congo, Mutombo, graced the NBA with his defensive artistry and performances for the ages. Meanwhile, Olajuwon, who was born in Lagos, Nigeria, dazzled the game with unconventional moves that are the stuff dreams are made of. Together, Mutombo and Olajuwon are the "blueprint twin towers" of African basketball. And by all accounts, living legends.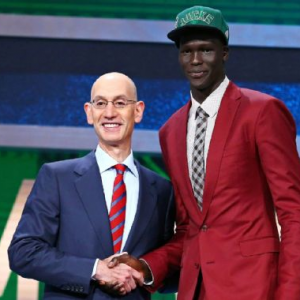 Nathaniel S. Butler /NBAE/Getty Images
The House of Mutombo
"Man does not fly in the House of Mutombo," – Mutombo warns the competition.
In Denver, Nuggets fans will never forget Mutombo clutching the ball with sheer delight after his eighth-seeded Denver Nuggets upset the Seattle Supersonics in 1994. It was the biggest upset in NBA history at that time, never before had a No.8 seed defeated a No.1 seed.
Just how improbable was this feat? In 2014, Mutombo told Jared Zwerling of Bleacher Report that while his team was down 2-0, the Sonics checked out of the Westin hotel in downtown Denver because they considered Game 3 a cake-walk. However, Mutombo would summon the will of champions and lead his young, inexperienced team to a comeback win in five games. The seven-footer tallied 15 rebounds and eight blocks in their 98-94 Game 5 victory.
"When I grabbed the final rebound… it was the excitement, the emotion of beating the team that everyone thought was going to be the No. 1 team to win the NBA championship by the way it had played, the kind of players it had. It also had one of the smartest coaches in the league in George Karl. There was nothing negative you could say about the Sonics. So we really did shock the world, and that's the only way I can describe it," Mutombo told Zwerling.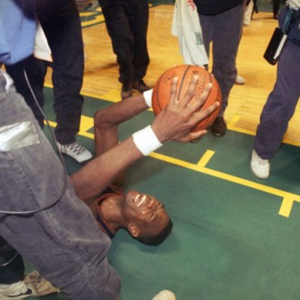 Dikembe Mutombo lay on the court holding the game ball after the Nuggets defeated Sonics in the 1994 NBA playoffs. (Bill Chan, The Associated Press)
Dan Issel, the legendary center who was coaching the Nuggets, looked at his team and offered, "I don't think our kids knew they were supposed to be nervous."
For his career, Mutombo would average 2.8 blocks and 10.3 rebounds per game. He is second all-time in registered blocks. Also, he was a four-time defensive player of the year, eight-time All-Star and was elected into three All-NBA and six All-Defensive Teams.
The Dream Artist
During Olajuwon's collegiate years, legend has it that during a game in practice, a University of Houston coach watched in wonder how he dribbled immaculately down the court for the dunk and remarked, it "looked like a dream." From that day forward, Olajuwon was called "The Dream."
In 1984, the Houston Rockets drafted Olajuwon with the first overall selection in the NBA draft, ahead of Michael Jordan, John Stockton, and Charles Barkley. He went on to lead the Houston Rockets to two NBA Championships.
In retrospect, it's easy to assume that the two-time NBA champion had it easy. After all, he was a number one pick, and that somewhat carries a de facto superstar status. Despite it, however, a 1993-94 season review reported that Olajuwon was the NBA's most underrated superstar. He had his struggles which include a disappointing finals loss in 1986. Harvey Araton of the New York Times once wrote that he didn't even look seven feet in the finals, "He appeared to be dwarfed by Bill Walton, who was listed as 6 feet 11 inches."
However, Olajuwon quietly blossomed behind the scenes while corporate darlings like Jordan, Magic Johnson, Larry Bird and Charles Barkley enjoyed the limelight. He made constant improvement the most captivating aspect of his game. According to Araton, Kenny Smith, a former teammate, recalled the baseline being where defenses used to frustrate Olajuwon. However, on his championship run, "The shot that people try to force him into taking is now the shot he wants to take," said Smith.
In 1994, Olajuwon would earn his second trip to the finals and ascend to bonafide superstar status. He had an outstanding series, battling in the post with Patrick Ewing and averaging 26.9 ppg, 9.1 rebounds, 3.6 assists and 3.86 blocked shots. His last three-pointer block on John Starks sealed Houston's 86-84 win in Game 6. In the fraternity of basketball greatness, at last, he finished his career with two NBA Finals MVPs and a regular-season MVP. He also played in 12 All-Star Games and set the NBA all-time blocked shots record.
In a 2005 interview with Marvin. R. Shanken, Jordan, who is arguably the best player of all time, said that if he had to pick a center for his Dream Team, it would be Olajuwon.
"I would take Olajuwon. That leaves out Shaq, Patrick Ewing. It leaves out Wilt Chamberlain. It leaves out a lot of people. And the reason I would take Olajuwon is very simple: he is so versatile because of what he can give you from that position. It's not just his scoring, not just his rebounding or not just his blocked shots. People don't realize he was in the top seven in steals. He always made great decisions on the court. For all facets of the game, I have to give it to him," Jordan offered.
It's tough to argue with him, after all, what's the Dream Team without the Dream.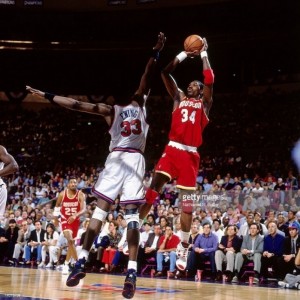 Olajuwon fades away from Ewing in the 1994 NBA Championship (Nathaniel S. Butler, Getty Images)
Maker's Unusual but Familiar Journey
"No matter where you are in the world, the NBA will find you," Bill Walton told Maker a few years ago.
Until his draft selection, Maker's journey has been challenging. His continental journey started when he escaped a civil war in Sudan, traveled with his family to Uganda and then to Australia as a refugee. At the age of 14, he was discovered while playing soccer and encouraged to try out for basketball.
Five years later, Maker would enter the NBA. His route unconventional, he bounced around high schools from the US to Canada. Then, rather than go to college like most North American prospects, he elected to enroll for the 2016 draft. Thereby, making him ineligible since prospects have to be 19 years old and one year out of high school. However, he made a petition arguing that he had graduated high school in 2015 and stayed only for a post-graduate year. The NBA granted his eligibility in April.
Then came the rumors and hullabaloo over his age. In particular, the rumors suggested that he was several years older than 19 years old. Jake Fischer of Sports Illustrated reported that several teams had "entirely ruled Thorn Maker out of the first round due to his age. Multiple sources believe Maker to be 21-23, not 19."
Unfortunately, this is not the first time an African prospect has been knocked for his age. Mutombo endured cracks about his age since his collegiate days in Georgetown. It wasn't until 2007, at the age of 40, while playing for the Houston Rockets that he told ESPN he was tired of the jokes about his age. He even threatened to reach out to David Stern, the NBA commissioner of the time to "make it stop."
But before Mutombo grew tired of the jokes, he always laughed along and maintained his genuine Joie de vivre attitude towards life. Maker seems to have taken a leaf from Mutombo. When asked how he feels about the age rumors, he said, it didn't bother him."If it were true, I'd probably be like sideways about it, but it's not true, so I'm comfortable," he told The Boston Globe. "I'm not angry or anything..."
Instead, Maker appears more focused on improving his game. "As a rookie, I feel like I can bring to the team a lot of what they need. Being able to play hard no matter what situation, find a way to be impactful, just bring out a lot of length, leadership, dedication: that's all part of my game. I feel comfortable doing it," he said via Cisco Telepresence.
Further, Maker said he plans to get stronger with time. "I am strong; I know that I believe that, and I've seen how strong I am. As a player, you can never get satisfied; you always want to get stronger, so you're just unstoppable. I'm never going to get satisfied, so I definitely want to get stronger," he said. That high motor, that focus in the face of ridicule, those are the seeds of greatness that insiders and die-hard fans like to call, "the intangibles."
So Maker Has Heart, but can He Play at the Highest level?
According to the Boston Globe, Maker is a "good shooter for his size and said he is capable of defending both small forwards and centers." Additionally, he said he "takes pride in blocking shots." Words like this would make Mutombo proud.
Offensively, he has set the highest possible standard for himself. "I would say I'm more like Hakeem Olajuwon," he said via Cisco Telepresence. "I'm a big fan of Hakeem because of his footwork. I've been studying some of that, and it worked out and got me here also."
He added: "I think five years from now, it's going to be a great situation for me because there is going to be more of Hakeem in my game and a little bit of today's version of being able to shoot. You have to have it if you want to be able to survive in this modern version [of the NBA]." Hakeem would approve since he always thought of himself "as a guard in a big man's body."
In a basketball universe where many base their assessment on actual gameplay, there is not much to go on in regards to his highshool and collegiate career. However, he did impress in the measurable assessments at the combine. Apparently, he set records for men 6-11 and over in the standing and max vertical, which may explain how he got drafted so highly.
Further, Maker turned heads during his summer league showing. He made the ALL-NBA Summer League Second Team and averaged 14.2 points and 9.6 rebounds. He shot the ball well and had some great blocks. Thus, taking his go-go-gadget 7-3 wingspan and slapping his draft skeptics hard across their faces.
Even so, it is too early to tell if Maker will surpass the greatness of the twin towers of African basketball. However, he shows a promising start. If he continues to follow the blueprint they left behind, he will surely get there. As the Ashanti proverb says "When you follow the path of your father, you learn to walk like him."
Illustration by Wendo Abuto