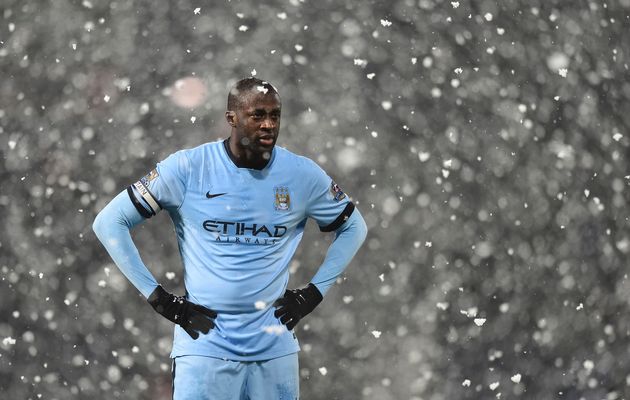 The Rift Between Pep Guardiola and Yaya Toure
OK-- Pep, you win--trade Yaya already. Are we supposed to believe that all of a sudden Yaya Toure isn't great, or at least good enough, and that his skills have diminished to the point where he's not even a benchwarmer?  Are we supposed to believe that Toure lacks the "intensity" to be included in a game roster?
Granted, maybe he's not as explosive as he once was. However, the absurdity that Toure needs to increase his intensity is a misplaced scrutiny by coach Pep Guardiola – unless Guardiolo is insinuating that Toure's style of play for the past few years, which by the way was instrumental in Man City's triumph as a Premier League powerhouse and champion, was a fluke.
Yaya Toure is a midfield general, a great box-to-box midfielder and has been since his career began. He's been one of the best at his position for years. Suggesting that he change position or tweak his style at this stage in his career is blasphemy--as Stephen A. Smith would say.
"When he is going to increase a little bit his intensity without the ball," said Guardiola when asked about the status of Yaya Toure.
Let's dissect that for a moment. The prime responsibility of a box-to-box midfielder is the ability to defend and attack with great passing skill, great vision and the ability to maintain control of the ball. Keyword--the ball. No doubt, a midfielder needs to have stamina, but Yaya Toure's style of play is what has defined him. His ability to control the midfield effortlessly and create plays for his teammates while attacking is unquestionable.
However, there is a history between these two.
As part of the golden generation of Ivory Coast, Yaya Toure joined AS Monaco of the French League 1 after the 2006 World Cup. While at AS Monaco, Toure had a difficult relationship with the then incumbent coach, Laszio Boloni, regarding his preferred midfield position. As tension between the two mounted, Boloni was fired as AS Monaco coach due in large part to the team's underperformance. The new coach, Laurent Bannide, soon accepted Toure's suggested preference for the midfield position. Toure became a key and influential player with AS Monaco and went on to score five times, helping the team avoid relegation. After the season, many ranked Yaya Toure as a top-notch midfielder in the world, and teams lined up to get a piece of the imposing midfield general. In the summer of 2007, FC Barcelona came calling and Toure agreed to joined the Spanish side.
Toure joined Barcelona for £6.7 million. According to news reports from that era, during the start of the 2008-2009 season, Pep Guardiola was appointed manager of Barcelona, promptly making it clear from the get-go that he preferred Sergio Busquets in the midfield to Toure. In the summer of 2010, Barcelona released Toure. He subsequently signed a five-year contract with Premier League's Manchester City.
As rumors swirled about Pep Guardiola's impending move to Man City, many in the media and around the league speculated that it would be the end of Toure's career at Manchester due to the history between the two. After all, Guardiola had favored the young and unknown midfielder Sergio Busquets over a seasoned and promising Yaya Toure at Barcelona.
According to a report in Skysports,
"Compared to Busquets, Toure was more of a box-to-box player. It was actually hard to pin down Toure's best position - attacking midfield, defensive midfield, he even filled in at centre back in the Champions League final. He played all three positions really well. But over the years, Busquets has proved that Pep was right to trust him."
Whatever Toure's future becomes at Eastlands, it's fair to say that Pep Guardiola has never been a fan of Toure's style and we will never know what spiked the rift between these two. However, style of play in an offense is pivotal, and if a coach is hell-bent at fostering a specific style that is incongruous to a player's inherent style, something has got to give.
Featured Photo: Courtesy of TOBY MELVILLE / REUTERS