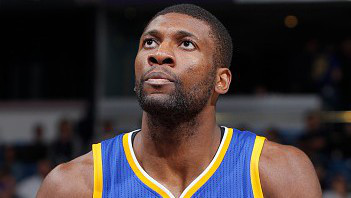 Running Towards Destiny: The Unconventional Path of Festus Ezeli
"Everybody was running up the court, and I was just running with them. It's kind of surreal. Sometimes I think about it now, and I'm like, damn. How did I get here?" Festus Ezeli recalls in an interview with Pablo S. Torre of Sports Illustrated.
In 2004, a 14-year-old Ezeli left his home in Benin City Nigeria to Yuba City, California. His dream at the time was to study medicine and become a doctor. According to an interview with Adam Caparell of Complex Sports, "Ezeli always told his mom, Patricia, he wanted to be a doctor, and that made her proud. He played soccer as a little boy, but only for fun. He was more interested in academics." So his parents sent him to Uncle Umeka, a pediatrician to help him realize his goal.
Shortly after his arrival in the U.S., Ezeli discovered basketball, and that's when everything changed. "I didn't know what I was doing," Ezeli recalled in an interview with Andy Katz of ESPN. "Imagine someone who is 14 or 15 years old, and you're teaching them as if they're a 6-year-old. It was tough … I tried playing in 2005. I stopped. I tried again in 2006."
The Unusual Child
Ezeli always knew he was destined to be something special. "My parents told me I was an unusual child," Ezeli told Katz.
His parent's words would hold true. How else would a teenage boy who had never played basketball become so highly recruited in just two years after discovering the game?
Kevin Stallings, Vanderbilt's head coach at the time, told Katz that when they first saw him, "He didn't look particularly good when he got the ball, but he had this unbelievable basketball body. You could see his speed, athleticism and how he could really run. He didn't have the skill level. We decided to recruit him, and others tried to do the same thing."
In 2007, after evaluating offers from Boston College, UConn, Havard and Vanderbilt, Ezeli chose Vanderbilt. Despite offering Ezeli the scholarship, Stallings was careful to manage his expectations. According to the Torre interview, Stallings once recalled, "I realized that he could be a player of no consequence, with no feel, who never developed into anything." On the other hand, "he could be a guy who became a dominant force. The range was bigger and wider for him than any kid I'd ever seen."
The latter would turn out to be true. For his first season, Ezeli redshirted and worked tirelessly to improve his game. "He was learning everything for the first time. He didn't know the terminology. He had never been on a team," Stallings told Katz.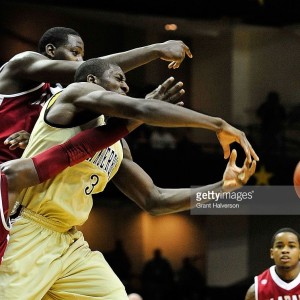 Festus Ezeli #3 of the Vanderbilt of battles for the ball with Chris Hines (Grant Halverson, Getty Images)
In a Whole New World with Basketball
At Vanderbilt, Ezeli traded his dreams of becoming a doctor for hoop dreams. He switched his major from biology to the less demanding economics so that he could focus more on basketball. He worked relentlessly. Dan Muller, Vanderbilt's assistant coach at that time told Torre that he was ready to bet that "there's not a person in this world that has shot more free throws than Festus in the past nine months."
The coaches watched as Ezeli blossomed before their eyes, getting better every day. "He now has a feel for the game," Stallings said in the Katz interview. "He has made himself an effective player. I think it's very rare. All of us are looking for more finished products. But we all understood if the payday came, if it really came, if he understood the game, if he was experienced, then it was going to give him a chance to be different than other guys. He didn't learn the game in elementary school like I did. He was trying to learn the game while competing effectively in the SEC. That makes it even more amazing."
In his third season, Ezeli improved to 13 points and 6.3 rebounds per game, from 3.8 points and 3.2 rebounds as a reserve center in his sophomore year.
"I don't know what the odds of making the NBA are. But it's not good," Ezeli told Caparell. "And then for a player who had never played the sport before and then starts playing at 16, I wonder what that number is?"
Playing With the Big Boys
"My first name is Ifeanyi, and that means nothing is impossible with God. That sets the tone for my journey while I'm alive," Ezeli offered in the Katz interview.
In 2011, the Golden State Warriors selected Ezeli with their 30th draft pick. In his rookie year, Ezeli played well, appearing in 78 games. According to statistics on NBA.com, his 41 starts were the most by a Warriors rookie center since Joe Barry Carroll started 80 games in 1980-81 and were second most among rookies on playoff teams.
However, in his sophomore year, he would suffer the biggest test of his budding NBA career, a right knee injury that had him miss the entire 2013-2014 season.
Ezeli made his comeback in the 2014-2015 season opener. He started strong with noteworthy performances against the Kings, where he recorded a career-high 15 points. The day after, the injury bug strikes again. Ezeli sprained his left ankle and would miss a significant chunk of the season.
However, his second injury would not stop him from trending upwards. Ezeli made it back in time for the playoffs. He came off the bench as a critical role player that helped the Warriors stay in the game whenever their starting center Andrew Bogut was in foul trouble or struggling with smaller line ups.
After almost ten years of risk, doubt, uncertainty, and injuries, Ezeli's hard work, and remarkable self-belief finally paid off. He won his first NBA Championship when the Warriors defeated the Cleveland Cavaliers in six games of the 2015 NBA Finals.
The year of Ifeanyi
Jeff Van Gundy once said that Ezeli could start for most teams in the league. In April this year, he offered that Ezeli is a $15 million-per-year player. It's tough to argue with him. Statistically, Ezeli has been improving every year. Despite injuries, he posted career highs in 16.7 minutes per game, points per game, 5.6 rebounds per game, and 1.1 blocks per game.
Furthermore, Ezeli was instrumental in helping his team win a historic NBA record 73-9 season. His team continued its dominance all the way to the NBA finals but fell shy of a perfect season when they lost to the Cleveland Cavaliers in 7 games.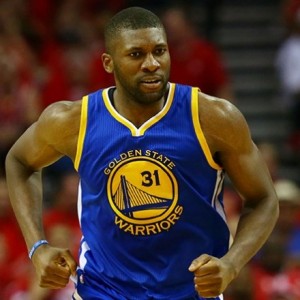 Ezeli runs down the court (Ronald Martinez/NBAE/Getty Images)
Now, Ezeli Knows
Ten years ago, Ezeli had no idea what he was doing on the court. "I know my part. I know what it is I bring to the table. I'm a defensive guy first. Rebound, block shots, protect the rim, protect the paint. When my number is called, I just play my part and to the best of my ability," Ezeli explained to Caparell.
He may have given up his dream to practice medicine but not the part about helping people. "I said I wasn't going to go back until I was able to make some sort of difference, some sort of change. And now I'm starting to be able to," he shared with Caparell.
Ezeli hasn't been to Nigeria since he was 14. In early July, he was signed by the Portland Trail Blazers to a two-year, $16 million contract, which is enough money to make a difference in his home country.
Today, Ezeli is not "just running" in the gym like he did ten years ago. This time, he is running towards a goal to impact change. "I want to be able to start making kids understand that there is more than struggle," he said to Caparell. "There are a lot of kids that feel that way. Basketball camps, doing relief efforts, bringing supplies, there's a lot of room to cover."
Featured photo courtesy of Getty Images