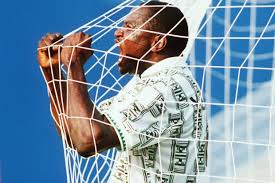 Rashidi Yekini, one of Nigeria's greatest soccer players and the nation's first to score a World Cup goal has been called "a legend" and "the Goalfather" for his ability to reliably score goals. Over the years, Yekini played for numerous clubs. Career highlights include scoring 45 goals out of 53 appearances for the Shooting Stars, 90 goals out of 108 appearances for Vitória Setúbal, and 37 goals out of 58 appearances for Nigeria's national team.
Yekini represented Nigeria in five major tournaments and was named the African Footballer of the Year in 1993. In addition to playing in the 1994 World Cup, he also played in the 1994 Africa Cup of Nations, 1998 FIFA World Cup, and 1988 Olympics.
Sadly, this all-time great footballer died at age 48 after a series of personal setbacks and an extended illness.