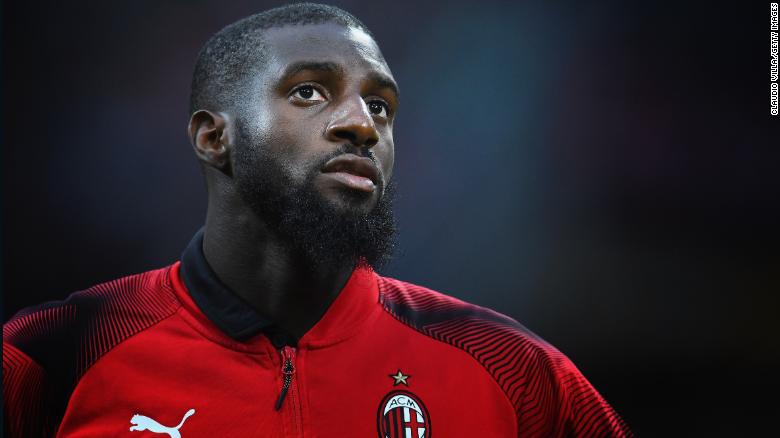 Racism in European Football
This year's Liberation Day in Italy, a public holiday celebrating the end of Nazi-Fascism, showed us that racism is alive and well in European football. Two blatantly racist incidents happened the day before, both of which involved fans of Italian football club Lazio, which faced off AC Milan in an Italian Cup semi-final match that same day.
According to news reports, hard-core Lazio fans held a far-right flash mob before the match near Piazza Loreto, the site where Mussolini's body was strung up in 1945. The mob held up a banner that read "Honour to Benito Mussolini," sang fascist songs, and made Nazi salutes. Eight Lazio fans are being investigated for their participation in these activities and could face criminal charges as "apology for fascism" is a crime in Italy. In fact, the Lazio fans are expected to be charged with "fascist manifestation."
Inside Milan's San Siro stadium, the match between the two teams began. Tensions were already high as AC Milan midfielders Tiémoué Bakayoko and Franck Kessie had previously held up the jersey of one of Lazio's players as a trophy after defeating Lazio earlier this month. Bakayoko and Kessie were fined $97,000 for their "unsporting behavior."
As the match was about to begin, an all-too-familiar sound began: a racist chant.
"This banana is for Bakayoko"
could be heard before and after the match, accompanied by visual aids — inflatable bananas which were seen in the stadium.
To counter these chants, the public address system blared a message, threatening to stop the game if the chants did not stop. The chants did not stop, and the game continued despite the idle threat.
Unfortunately, this is but the latest incident of deep-rooted racism in European football. In Italy alone, there have been many recent incidents including monkey chants against Juventus's Moise Kean earlier this month and against Blaise Matuidi in January last year. Napoli's Kalidou Koulibaly has also faced multiple incidents of racism while playing in Italy. In what was described as a new low in the history of Italian football, Lazio fans reportedly posted stickers of Anne Frank wearing the jersey of an opponent along with anti-semantic slogans around Rome's Stadio Olimpico in October 2017.
Racism in this sport isn't limited to Italy, rather it is rampant in other European countries including:
England — Racism is on the rise here according to Kick It Out, which noted a 30 percent increase of cases reported at Football League matches.

Germany — Germany's midfielder Mesut Özil left the national team because of "racism and disrespect."

Belgium — It's not just players and fans. In Belgium, Mechelen's assistant coach, Frederik Vanderbiest, was banned for three matches and fined €1,500 for racially abusing the Union assistant coach, Abder Ramdane, during a First Division B match.

France — It's not just professional football, either. Amateur football has it, too. A black player for the Alsace club AS Benfold, Kerfalla Sissoko, was racially abused and beaten unconscious by opposing players and fans during a match against Mackenheim.

Bulgaria — UEFA fined Levski Sofia and ordered the team to play two matches behind closed doors after racism and violence by their fans.

Romania — Dinamo fans directed monkey chants at Steaua Bucharest's Harlem Gnohéré and, more recently, at one of their own players, Armando Cooper.

Spain — Sporting Gijón fans were recorded chanting: "We don't want players of colour; we want players from Mareo [the club's youth system], proud of Gijón."

Sweden — Sweden's Jimmy Durmaz, who was born in Sweden to Assyrian parents, was targeted for online abuse after a World Cup loss attributed to him. His entire team stood up for him — and against racism — by lining up and chanting "Fuck Racism."
Racism in this sport certainly isn't new, either. According to SIRC (Social Issues Research Centre), Arthur Wharton, who signed for Darlington FC in 1889, is believed to be first professional black player in Britain. 19th century Britain had its fair share of social prejudice and racial discrimination back then, so we can presume racial incidents have occurred since blacks joined the sport.
Racist chanting appears to have begun in the 1970s and 1980s. Chanting often takes the form of monkey noises but also comes in the form of spoken words, which are too ugly to repeat here. Far right groups also began to appear in the 1970s, actively selling their materials and targeting football fans. One far right publication by the National Front, Bulldog magazine, actually encouraged groups to compete for the title, "Most racist ground in Britain."
The SIRC report, Racism and Football Fans, which was written in 1996, notes that neo-nazi and neo-fascist groups target football grounds across Europe with Lazio and AC Milan being among the worst affected clubs. As we saw this Liberation Day in Italy, a full 23 years after that report was published, racism and football fans continues to be a serious problem affecting these two teams and this sport in general.
Clearly, racism is deeply engrained in European football. It is a stain that needs to be wiped clean. While individual teams and organizations including UEFA, the Professional Football Strategy Council (PFSC), and FIFA have launched campaigns to end racism in football, more needs to be done.
For example, sanctions exist and referees have the authority to stop a game, or even suspend it altogether, due to racist chanting, but all too often, these are hollow threats as we saw this week in Milan. Here's another example: Two years ago, Sulley Muntari requested a referee's intervention when fans directed monkey chants his way. The referee did nothing. Muntari repeatedly pointed to his skin color in exasperation to which the referee finally responded — by booking Muntari for dissent. Muntari walked off the field, a move that got him booked again and ultimately ejected from the game. The chanting racist fans received no consequences for their behavior.
Zero tolerance may sound extreme, but shutting down a game the moment racism rears its ugly head is a good start. It's not fair to the innocent fans or the players, but allowing this ugliness to continue isn't either. We need to be like the Swedish team and stand up, united against racism.