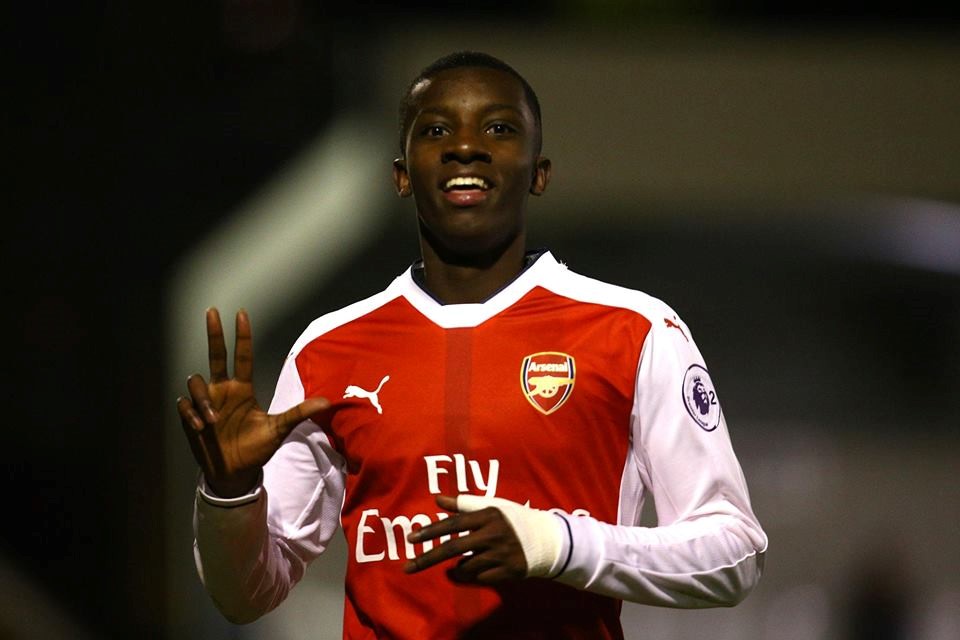 Meet Ghana's Eddie Nketiah- a Gunner on a Goal Scoring Rampage
The world watched two teenagers emerge for their senior teams in the 2015/16 Premier League season. Manchester City's Kelechi Iheanacho and Manchester United's Marcus Rashford hit the ground running and scored on their first-team debut to cement their names in Europe's prestigious league. Nigeria's Iheanacho who holds the best minute to goal ratio in Europe has become one of the deadliest finishers in all of Europe's top 5 leagues.
But another teenager with a record under his belt is Ghana's Eddie Nketiah. Since 2012/13 season, no player has had a better goal-per-game percentage than Nketiah's 82 percent goal record, in youth football.
Nketiah signed his first professional contract with Arsenal on September 01 after one year with the club - a move that showed how much faith the club has in him and a boost for the youngster's confidence.
"I achieved the contract through working hard and trying to keep improving, and as a professional that's something that I'm determined to keep doing because it takes me a step closer to the first team and I know how high the standards are,"
Nketiah said.
Arsenal signed Nketiah after he was released by Chelsea in the summer of 2015. The youngster joined the Blues' from his local team in South London as a nine-year-old, but the Gunners were quick to snatch him when it turned out that Chelsea would not offer him a scholarship.
Nketiah was invited to train with Arsenal just a few days after Chelsea confirmed his release, and the club's youth coaches liked what they saw and within a week, Nketiah accepted a scholarship from Arsenal.
The 17-year-old's pace, movement and finishing have made him a star of Arsenal's U-18. Last season, he was the top scorer with 24 goals in 28 appearances and he has since continued to do the same in the club's recent campaign.
His hat-trick against Leicester on November 28, included his first goals at U23 level, netting 14 goals in 16 appearances this season. His tally includes nine strikes for the U-18 team and he also netted twice on his debut in UEFA Youth League against Paris Saint-Germain for U-19 in October.
Can the Premier league embrace another young finisher?
Wenger is a manager who is well known for giving Arsenal's academy graduates a shot at first-team football, the latest addition being Nigeria's Alex Iwobi.
Nketiah has trained with Arsenal's first team a few times and he says he enjoys the training sessions and the practice games especially, as he gets the chance to score against Petr Cech - a top class 'keeper. He believes that scoring against Cech means that, he can do the same against any goalkeeper.
Although the young Ghanaian faces stiff competition from a number of Arsenal forwards -Alexis Sanchez, Olivier Giroud, Danny Welbeck, Chuba Akpom and Yaya Sanogo, academy players like 18-year-old Chris Willock - who has already made two EFL Cup appearances, Nketiah is preparing himself for the call up.
He said,
"I watch our strikers a lot and I'm working towards being as complete a player as possible. My game is mainly pace, movement and finishing, but I've made an effort to hold the ball up better which is something vital for the team and that Olivier Giroud does so well. I have also worked hard on my heading and have already scored three headed goals this season."
For a young player who has been likened to former Gunners hero, Ian Wright in his style of play, coupled with the fact that in his last two seasons, none of his fellow youngsters have come close to matching his scoring abilities, the Premier League and Arsenal fans are likely to get a glimpse of Nketiah sooner than later.
Featured Photo: Eddie Nketia celebrates during the 3-0 win over Leicester City on Nov.28(Courtesy of Getty Images)