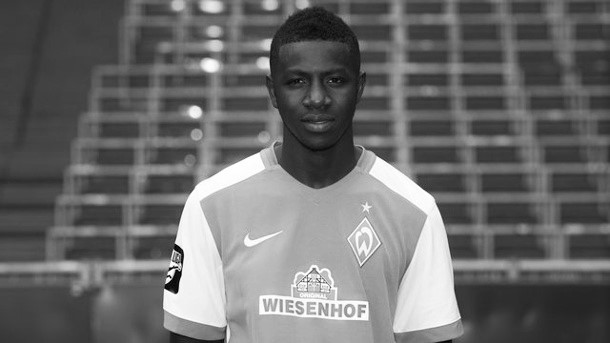 From an African migrant seeking an improved life to a Bundesliga player….the journey of Ousman Manneh
Ousman Manneh is viewed something close to a legend in his country.
Wednesday evening at the town centre Serrekunda, 13-km south-west of the capital Banjul, hundreds lined the streets to watch the 19-year-old make his Bundesliga debut with Werder Bremen.
Locals cheered the teenager's every touch of the ball throughout the fifty-five minutes he'd been on the pitch. Yet many knew little about how he came to join the four times Bundesliga winners.
Manneh's journey, like one would expect of a rising star, is strangely not a tale well documented. Details about how he came to Germany in 2014 are sketchy and the towering striker's unwillingness to speak of his past has done little help to piece together his incredible rise to stardom.
There are conflicting reports suggesting how he landed in the shores of the European country.
Some are of the strong conviction that he touched down in Berlin through legal means – via the Berlin's Tegel Airpot - having boarded a plane from his West African home Gambia on a visit before deciding to overstay following expiry of his visitor's visa.
Others believe he, like thousand other Africans are doing, took the perilous journey by boat via Libya to first port of call Italy's Lampedusa. For Germany Chancellor Angela Merkel's open door policy to immigration, he and dozen other migrants got transferred in camps to begin a life of hope coalesced with culture shock.
Which of the two versions perfectly chronicles this starlet's breathtaking rise remains unclear.
However what's certain is that Ousman arrived in Germany driven by desire to seek pastures new and to elevate his family's status at home. And that he managed to achieve at least judging by the standard and the mindboggling salary cap of a Bundesliga player. But this did not come without some luck doze by his side.
Back in Gambia, where he hails, he had himself in the books of Bakau-based Rush Academy, reportedly affiliated to First Division club Steve Biko, with partners in Colorado.
The Academy, whose minders include retired Gambia international-turned coach Abdoulie Bojang, taught Manneh all that is about football basics.
With this, the forward had little troubles showing Blumenthaler SV U19s gaffers the stuff he's made of when offered a trial.
Aware of his worth the fifth tier German side signed the youngster to a contract throwing him in their U-19s to begin the first stage of carving a career. Scouts in search of the next big thing in football took notice, and in came a bombardment of interest mainly from Bundesliga clubs all circling for the Gambian's signature. Hamburg, Freiburg, Hertha even Schalke 04 were the legion of star clubs on the queue.
With temptation of getting signed on a bumper contract, coaches at Blumenthaler SV U19s, at this juncture knew keeping their prized possession is no longer a matter of if but for how long can they hold out in the face of plethora of overtures.
Werder Bremen eventually won the race with a strong promise of first team football in the future, a lucrative contract and a possible qualification to the Europa League doing the magic of turning the lad's head.
And in March 2015, after months of negotiations putting into consideration the striker's illegal resident status, the 18-year-old signed the dotted lines to officially become a Bremen player on a whopping four-year deal with option to extend at end of the initial contract. This set the pattern for the Ginak Kajata-born's rapid progress.
The 19-year-old made his debut for the reserves who trade in Germany's third division four months on after joining. His first victims, a lowly SV Wilhelmshaven, will forever be haunted with fits of nightmare on remembering this growing goal-poacher.
Dubbed Mamanding by loved ones, Manneh climbed off the substitutes' bench to score four goals, a hat-trick, in fifteen minutes. That season he featured twenty-eight times, twelve of those games as a starter in Liga 3.
Ex Germany international Torsten Frings, assistant coach at Bremen, said of Mamanding's progress then:
"He called a lot of attention to himself and has shown that he can be interesting for us too. He's on our radar."
Days following this jaw-dropping feat, Bremen were to face West Ham United in a pre-season match and Manneh looked headed for London  to reinforce his club's attacking force.
"It's possible that he starts training with us immediately. There is also the question of whether he makes the trip to London so we can test him there,' Fringes continues.
By such strides first-team chances were by now beckoning but 37-year-old coach Alexander Nourin exercised circumspection against burdening him with A-team duty too quickly.
And finally on September 21st 2016, the much awaited day ticked. Ousman started against a much fancied Maiz side before getting hauled off with Lennart Thy as his replacement after 55 minutes. Bremen lost 2-1.
Record
In the process of his debut, the ex-Rush Academy man became the second Gambian footballer to play in Germany's top flight after Dawda Bah whose spell at Augsburg was truncated by bout of injuries.
Bah's Bundesliga football lasted no more than thirteen minutes in his club 4-1 drubbing to Bayer Leverkusen 9th September 2011. Consequently, Manneh now becomes the Gambian with the longest debut in Germany and would hope this doesn't in anyway become his final stay with the club's A-teamers.
 Featured Photo:  Foto: Jörg Sarbach. (Quelle: dpa)