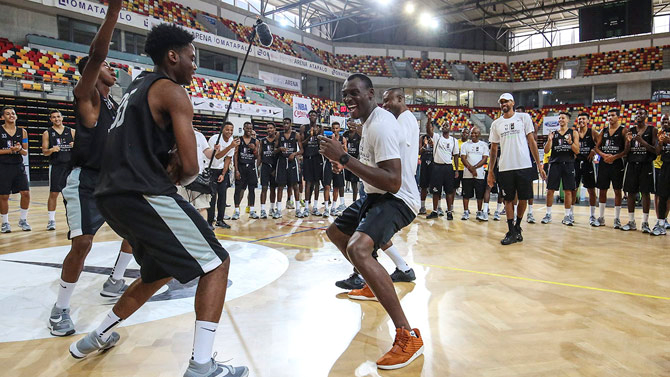 Developing African Sports: Dikembe Mutombo Re-Unites Bismack Biyombo With His Roots While Basketball Without Borders Awards Two Young Angolan Athletes U.S. Scholarships
The USA has awarded scholarships to two Angolan athletes with Interclub de Benguela. Maria Macedo and Geovana Dongua were on Saturday picked within ten players at a border less basketball training camp. The scholarship is an opportunity for the players to pursue the sport stateside, where they will continue with the practice.
For the first time, Luanda in Angola hosted the 14th edition of Basketball Without Borders (BWB), Africa. The three-day event was supported by the Angolan Basketball Federation (Federaçao Angolana de Basquetebol) and the Angola Ministry of Youth and Sports. They organized 87 boys and girls from 27 African countries from Aug. 31 - Sept. 3.
This year's BWB, Africa was spearheaded by Bismack Biyombo, a native of the Democratic Republic of the Congo. The camp included NBA players, legends, and coaches in partnership with FIBA officials.
"We are pleased to partner with FIBA to bring the 14th edition of Basketball without Borders Africa to Angola for the first time," NBA Vice President and Managing Director for Africa, Amadou Gallo Fall, said in a press release.
The NBA players that joined Biyombo (Orlando Magic; DRC) are Eric Bledsoe (Phoenix Suns; U.S.), Luc Mbah a Moute (LA Clippers; Cameroon; BWB Africa 2003), Salah Mejri (Dallas Mavericks; Tunisia), Thabo Sefolosha (Atlanta Hawks; Switzerland), and Cody Zeller (Charlotte Hornets; U.S.)
It was another continental reunion for NBA Global Ambassador and Hall of Famer Dikembe Mutombo, who returned after a successful campaign in 2011, South Africa. Former NBA players like Charlie Bell (U.S.), Jason Collins (U.S.), Olumide Oyedeji (Nigeria); and former WNBA player Astou Ndiaye-Diatta (Senegal) and Jenn Lacy (U.S.) were among the entourage.
Basketball Without Borders is a program that seeks to assist the NBA to unearth talent outside the USA while using basketball to impact on communities and change lives.
"These kids are participating in Basketball without Borders have the potential to do great things, all we have to do is encourage them and instill the confidence in them that they can achieve anything as long as they believe in themselves,"
said Biyombo. The growing focus on the continent is attributed to the increase in talented athletes marketable for the professional leagues.
Fall also states that "Africa's growing basketball ecosystem led to a record 10 African players in NBA rosters with the start of 2015-16 season and 5 African players selected in the 2016 NBA Draft. This year's camp will once again provide young players from across the continent with the tools to succeed on the court and in life."
The program which not only focuses on international basketball camps but also reached out to the communities as well.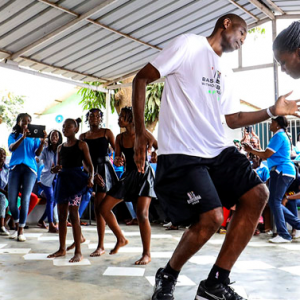 Dikembe Mutombo takes to the floor during the 14th edition of Basketball Without Borders community outreach program in Angola. (NBA.com)
Featured Photo: Bismack Biyombo takes to some playful time during the 14th International Basketball Without Borders camp in Luanda, Angola. (NBA.com)