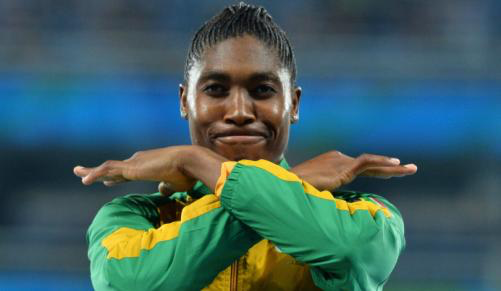 Caster Semenya Takes Over in Zurich
There is no stopping Caster Semenya this year.
The 800 meter Rio Olympics, women's gold medalist stormed to glory at the IAAF Diamond League meet in Zurich on Thursday.
Customarily, Semenya out ran her opponents finishing in 1:56:44 ahead of Burundi's Francine Nitonsaba (1:56:76) and Kenya's Margaret Wambui (1:57:04).
The race was termed as "the most bitter rematch in athletics" because Semenya had to race against Britain's Lynsey Sharp and Poland's Joana Jozwik who have publicly expressed dissatisfaction about her gender row.
Meanwhile, Nitonsaba and Wambui did not make it that easy for the champion. The later pushed Semenya who responded with more pace, not typical of her races. The race reached its extreme at the 600 meters mark when the Burundian and Kenyan duo sort out to attempt a lead over the South African.
Regardless of their pursuit, Semenya displayed resilience and determination. In front of an enthusiastic Zurich crowd, the South African employed a strong finish to seal her victory.
In addition to the title, Semenya cashed in US$ 40,000, the reward for winning the Diamond Race.
Featured Photo: 800m Diamond League Women Champion, Caster Semenya. (Gavin Barker/BackpagePix)