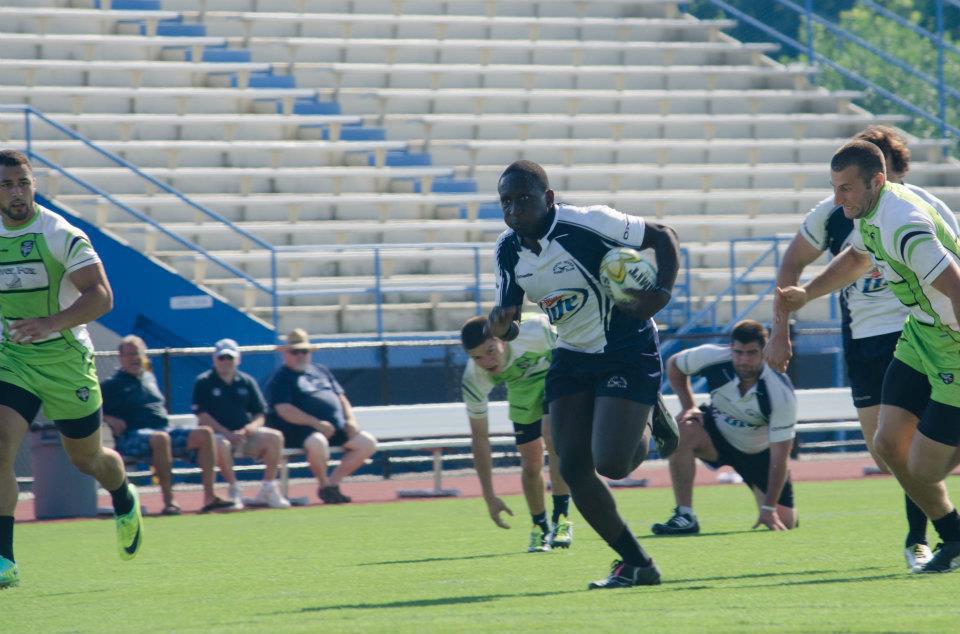 Adnan Kawuma: From Kampala to Boston, A Story of a Champion
After an 80-minute thriller, with momentum shifting back and forth, the Mystic River defeated the Austin Blacks by 45-33 in the USA Rugby Emirates Airline Club Men's Division I National Championship.
A day after, the Ugandan-born Adnan Kawuma was hard-pressed to explain what had just happened.
"Feels great man, still trying to sober up," he says.
Kawuma, a stoic, and powerfully built athlete has been playing for the Mystic River Rugby Club for ten years now. He recalled how many sacrifices he had to make on his championship journey.
"I had to juggle school and work since rugby takes four days out of your week. That's what makes this championship a whole lot better, knowing that all the sacrifices you have done for this have paid off.
"It has always been a dream for the club to win a national championship. So it still feels like a dream right now," he offers.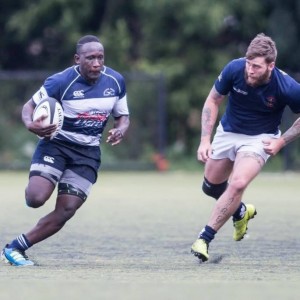 Photo by Adnan Kawuma
A Band of Brothers
Kawuma seemed reluctant to talk about his personal achievement and was quick to deflect to it being a team's win. Perhaps that has a lot to do with the character of the game, at its core, the game of Rugby is a fellowship that instills values of selflessness and sacrifice for the team. A true band of brothers, they call it. Jason Leonard, an English Rugby Champion once wrote: "There is a way of life that comes with it; and a way of thinking that believes in honor, sacrifice, pain and love for teammates and country. We can never compare sports with war, but we can perhaps discover here the wellspring of those beliefs."
For Kawuma, it's that love that fuels him.
"The love I have for this sport. It just makes me feel like a kid again when I'm playing. Plus my teammates are a group of awesome friends. So I'm always looking forward to taking the pitch with them year after year," he offers.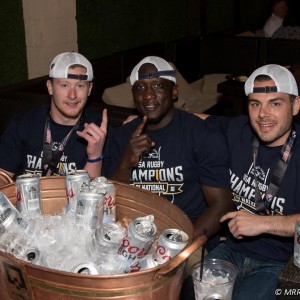 Photo by Adnan Kawuma
The Stuff of Champions
Suddenly, our attention shifted to the other championship game of the day. It was the NBA Playoffs, and the Golden State Warriors were defending their championship against the Cleveland Cavaliers.
"What's your prediction for the finals?" he asks. "I got Golden State in six."
"Golden State in Five," I say. "Game one was so easy for Golden State."
"LeBron will show up, that I know," he counters.
About a week later, I congratulated Kawuma on being right. LeBron and the Cavaliers rallied from a 3-1 deficit to beat the Warriors in seven games. Although the possibility of Cleveland winning became apparent to me when the series got tied at 3-3, Kawuma may have seen earlier. After all, they both possess the heart of a champion.
Like a fisherman who always sees another fisherman from afar, Kawuma knew other champions when he saw them. He identified them quickly because they shared a similar method, in any fight, "it is the person who is willing to die" that "will come out on top."
New Horizons for USA Rugby
The subject of rugby returns. In the 1924 Paris Games, the U.S. won the Olympic Gold medal against a heavily favored French team. Following one of the greatest upsets in Olympic history, nearly 40,000 French fans at the Stade Colombes threatened the principle of peace and a sense of brotherhood throughout the world which the modern Olympics were based. Rugby was removed from the next Olympics hence hurting the growth of the game in the U.S. This August; Rugby is returning to the Olympics after a 92-year hiatus.
Kawuma is enthusiastic about the odds for USA Rugby.
"Rugby in the States has grown compared to when I had just moved over (10 years ago), and that's mainly to it has been added to the Olympics. Now we have all kind of crossover athletes like college football players and track athletes trying out for rugby, so I think with more exposure of the sport to the American public, the sky is the limit.
"And I have also been impressed by the number of youth programs around the country, for instance, our youth program started in 2006 with just 20 kids now every summer we have hundreds of kids signing up. And also our sevens program has four teams competing every weekend with one focusing on national 'seven's' so I like what the future is looking like for USA rugby," he offers.
Even though much of the rugby-verse converted to professional rugby in 1995, the U.S. is yet to catch on fully. Leading the charge for professional rugby is PRO Rugby, a months old, five-team men's league lead by Doug Schoninger, a New York financier, and entrepreneur.  On PRO Rugby, Kawuma says he "would have gladly joined" if the opportunity was presented to him four years ago when he was fresh out of college. However, he explained that some of the guys would have to take "a huge pay cut leaving their jobs to join pro rugby."
"PRO rugby is a good idea for the development of rugby in the U.S. but it all comes down to the contracts they offer to the players and if they will let them live a comfortable life," he offers.
Dreams to Coach on the Continent
Even though he is 6891 miles away from his hometown, Kawuma still keeps tabs on Ugandan Rugby. He offers that Uganda has a lot to develop on regarding the game.
"I noticed that the players that were playing when I was 15 years old are still on the team," he shares. "And I think that if we put an emphasis on the 'sevens' like our Kenyan neighbors, it would help us a lot with development."
On his beloveds, Kawuma offers that his preferred team is the Pirates Rugby Club, but his favorite player is Justin Kimono of the Betway Kobs.
"When he is playing, his passion for the game is unbelievable," Kawuma says.
"Is it possible that at some point in the future, you'll come back to the continent and share your Rugby knowledge with our players? Better yet, coach?"
I ask.
"Yes that's my dream to coach rugby, right now I have been helping out at a high school here. So I will definitely be coming home to help out," he offers.
I ask Kawuma for his advice to a young Ugandan kid with international rugger dreams.
"Keep pushing and working hard. Hard work always pays off no matter how long it takes," he says.
Featured photo courtesy of Adnan Kawuma