Senegal's Khadim Ndiaye Wins Best Foreign Player Award in Guinea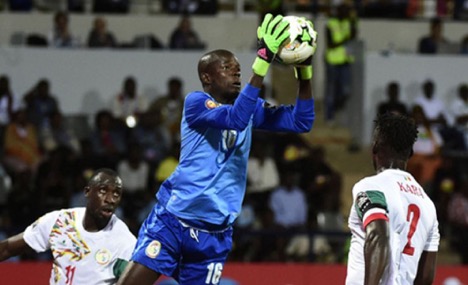 Teranga Lions' shot stopper, Khadmin Ndiaye has added another achievement to his football career after he was presented the Best Foreign Player award in the Guinean League.
The 33-year-old goalkeeper who plays for Guinean champions Horoya AC received the award on Thursday, January 4 during the 15th edition of the Nimba d'Or award ceremony at the Guinean cultural center in Conakry.
Nimba d'Or is an annual award ceremony organized by the Guinean Sports Press Association, to recognize the outstanding performances of the most distinguished athletes in Guinea.
Ndiaye won the award ahead of goalkeepers Ocansey Mandela, an Ivorian of Ghanaian origin, and Burkinafaso's Nikiema Dramane.
In another award category, Guinean international central midfielder, Naby Keita of RB Leipzig, retained his Best Guinea Player Abroad award. Keita won the award ahead of Alkhaly Bangoura, who plays in Tunisia and Francois Kamano, who plays in France for Girondins de Bordeaux.
The Guinea league player of the year went to Hafia FC midfielder Jean Mousté who won the national cup with his club that will be representing Guinea in the 2018 CAF Confederation Cup.
Full list of the 2017 Nimba Gold award winners
Best local Guinean football player: Jean Mousté (Hafia FC)
Best referee: Sidiki Sidibé (Assistant)
Golden Nimba 2017: Naby Keita (RB Leipzig)
Best coach: Guillaume Soumah (Wakriya AC de Boké)
Best foreign footballer in Guinea: Khadim N'Diaye (Senegalese, Horoya AC)
Best Guinean manager: Kerfalla Camara KPC (President Hafia FC and LGFP)
Image: Getty
(Visited 39 times, 1 visits today)