How Good Is President George Weah At Basketball?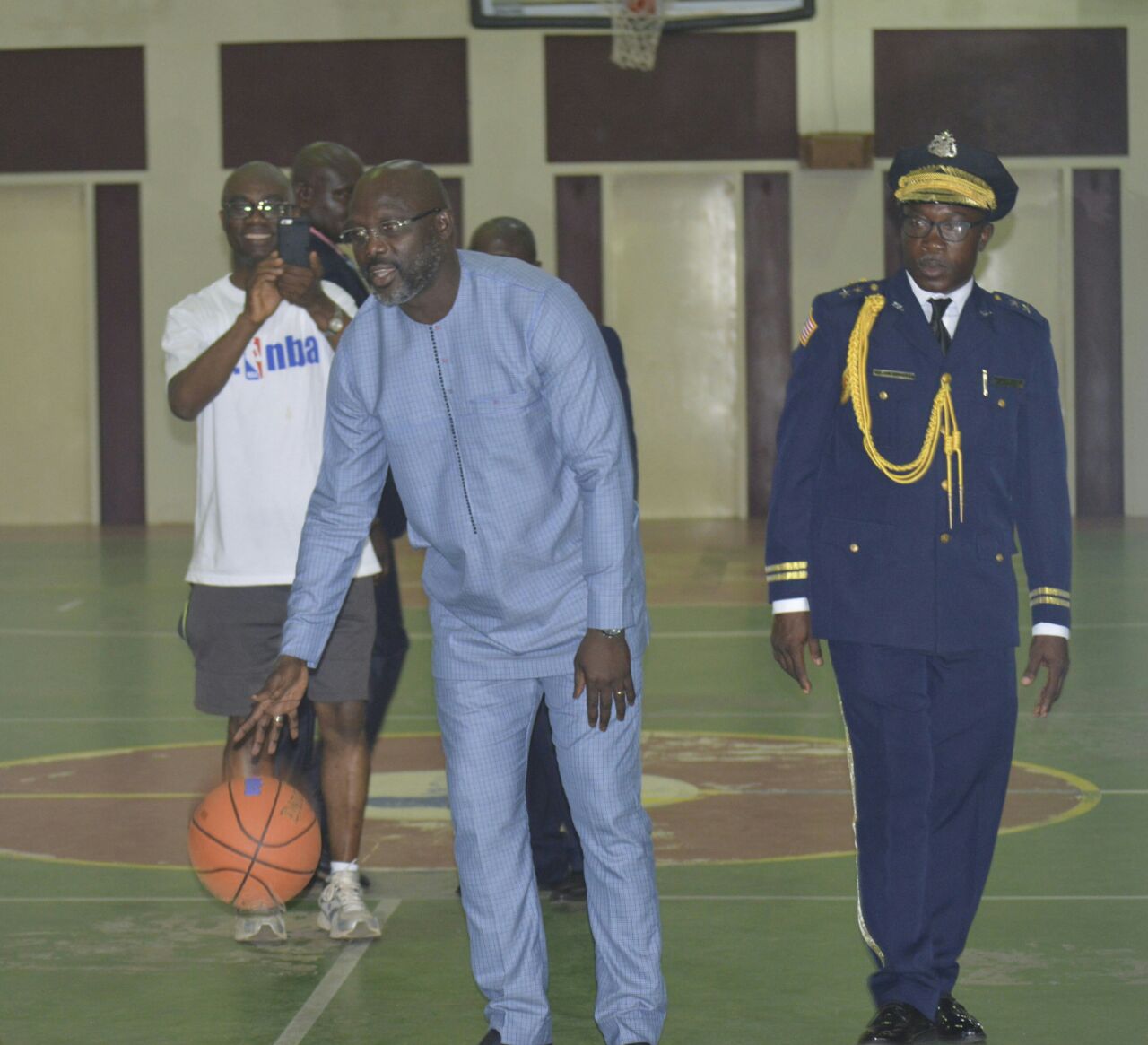 It's a warm Saturday (April 14) afternoon in Sinkor, Old Road where the official launching program of the National Basketball Association junior program, Jr NBA is being held at the basketball gymnasium of the American International School of Monrovia. The gymnasium is one of the best the West African nation can boast off, even thought the court does not have a hardwood floor made of dense wood with fine fibers which makes it resistantto splintering.
The stage is being set as we await the arrival of President George Weah to do the official launch of the program through a free throw. Only the game of football runs to the mind whenever the name George Weah is mentioned. Interestingly, President Weah is also a good basketball player although he didn't play professionally.
Escorted by the NBA Vice President and Managing Director for Africa, Amadou Gallo Fall to the middle of the court to do the free throw, president Weah made a perfect steal when he took Vice President Fall unaware and gained possession of the ball. No one expected him to do so. A stranger to basketball will struggle to position themselves in making a perfect shot, but that was not the case for president Weah. As the crow watched him position himself to shoot the free throws, his position could tell that the president has what it takes to play the limited-contact sports. Out of the four free throws taken, President Weah perfectly made two baskets with the other two hitting the rim.
Since his active football career, President Weah has had the enthusiasm to play basketball. He was inspired to play basketball following his many visitations to watch matches at the famous Sports Commission on Broad Street in Monrovia. Although he became a star in Liberian football after he gained the admiration of many fans due to his performance, Weah believes that the real sporting stars are from basketball. "I was a footballer, but I had to play basketball at all cost because I wanted to be among the stars." Quite different from football, it takes shorter time for players to reach stardom in basketball than football.
His ambition to play basketball was overshadowed by his rapid development in the football arena that took him to Cameroon before he moved to Europe and became a global football icon. Even though the world knows him as a football icon, president Weah is also a good basketball player.
Image: Anthony Kokoi
(Visited 71 times, 1 visits today)