Gambia's Jawo Thrill Over Qatar's Beach Volley League Feat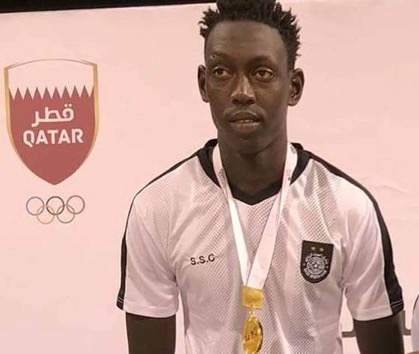 Gambia's Sainey Jawo and compatriot Mbye Babou Jarra over the weekend secured gold after winning the Qatari Beach volleyball U-19s league.
Jawo, 18, partnered with Jarra throughout the season with Al Sadd Sports Club to attain the feat.
The duo in the process became one of many Gambians to win the U-19 Qatari series as they grabbed a total three accolades –two silver and one gold medal.
Jawo, who has two years to end of his initial three-year contract, is all delight at his conquering run.
'For real this season is far better than last season. We are very excited about winning gold (the U-19 series) in the last competition,' Jawo, tells Ducor Sports from Qatar.
Born in Niumi in Njongon village and a product of Serrekunda East Volleyball team, Sainey won the Senegalese championship four years ago prior to sealing a move to Qatar via a trial.
Photo: Sainey Jawo pictured with his gold medal
(Visited 35 times, 1 visits today)