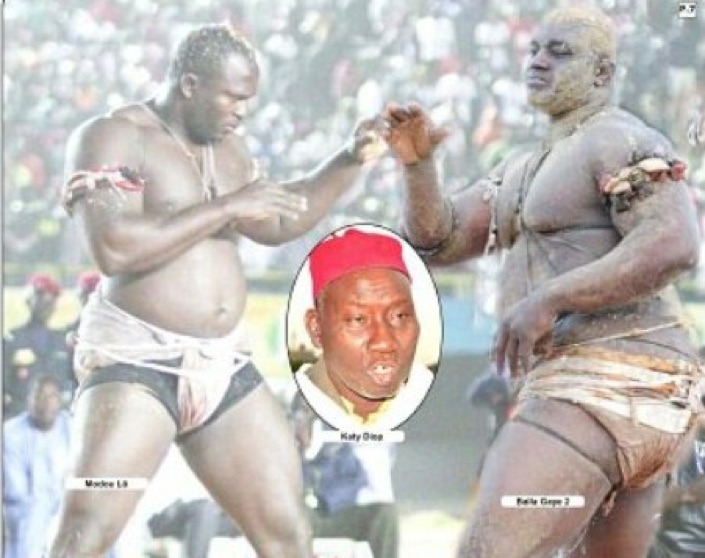 Wrestling: Streets Locked Down in Senegal Ahead of Balla Gaye vs Modou Lo Sunday Fight
Streets in the heart of Dakar are under lockdown with vigilantes positioned to guard areas forty-eight hours ahead of Sunday's wrestling match featuring bitter rivals Modou Lo and Balla Gaye II.
It's a bout one would want to watch and not be told about as the two face each other with a renewed sense of rivalry after they last met in 2010.
Cotton ribbons adorn the streets of Parcelless Assainies North-east of Dakar, Senegal's administrative capital, as vigilantes cordon off the surrounding places of both wrestlers.
This undertaking is usually not on the directives of the country's security unit rather an initiative by either the wrestlers or their representatives for fear of sabotage and mysticism.
Voodoo is well practiced and its makers revered by the public. From football, basketball, volleyball to wrestling, it is not uncommon to see athletes in Senegal douse themselves with holy waters from bottles and containers.
It's still to be seen where mysticism or its use has flipped over a wrestler and spanked him flat down without his opponent touching him, and yet it is expected to show up in the combat billed for Sunday.  It is anticipated both will bring to the venue near truckloads of holy water with the belief that it helps them secure victory. It is even being reported, but not confirmed, that Balla took a break from his training flying to Niger, Mali and Nigeria in search of mystical powers.
Tomorrow's game is a rematch following the first fight in 2010. Balla Gaye emerged supreme in that duel routing Modou Lo in 19 seconds, a loss the latter calls the worst in his career.
One could run out of superlatives describing the level the duo's rivalry has reached. Ugly scenes marred the immediate aftermath of their first fight. Tires were burnt, cars adorned in placards smashed as tension escalated between the two towns Guediawaye and Parcelles Assainsines, both situated in Dakar's North-east. Fans of Balla Gaye who enter areas where Modou Lo boasts of strong support often have sorry stories to tell afterward and vice versa. It required the intervention of then-president Abdoulaye Wade who talked the pair into agreeing to sign a truce vowing never to fight again.
Coinciding at a time the sport was being beset by violence, hooliganism in the game did not cease until sponsors threatened to boycott the multi-million CFA sport.
Today, every wrestler is a strong advocate of non-violence and an end to crowd trouble in wrestling venues.
The end to this drawback between fans paved way for the easy signing of the rematch between Balla and Modou in late 2018.
An El-Classico
It is not a title-decider, in fact far from it, but if ever there is a Barcelona-Real Madrid pairing in the popular Senegalese sport then this must be it. Victory for Balla Gaye will mean confirmation of his supremacy (2-0) while Modou would want to prove his nemesis's win was but a fluke. So who comes out with the bragging rights in this epic battle? It won't be long until we find out.
What's clear though is both are in the best form of their lives and have identical manners of victory in their previous outings. Modou humbled Lac de Guier II, a childhood friend to Balla on refereeing decision after full time, 30 minutes. Gaye also swaggered over Gris Bordeaux in a similar manner in what was his first fight after a two-year self-imposed exile from the arena. The former King of Arena's move to stay away from fights for twenty-four months to this day remains a puzzle with varying tales surrounding it.
One has it that he required to clear the performance-enhancing drugs he purportedly has been taking the past seasons, as per doctor's advice, which it is believed were beginning to have severe effects.
Another says he was forced to venture into soul-searching after losing two combats in a row; the first against Bombardier in 2014 in which he lost the crown and a year later against Eumeu Sene, a re-match meeting.
Bookmakers give favorite tagging to the Lion of Guediwaye –Balla – on grounds he won the first tie but tip a much improved Lo to come out of the duel unruffled on the basis of form and rhythm which his adversary seems to lack on accounts he has competed only once the last three years.
Both wrestlers understand the hype hovering over the duel and have taken initiatives not be caught unawares. Modou flew to Spain along with five other wrestlers for back up.
Gaye stayed in Paris enlisting the help of Ama Balde, a fast-rising sensation as he registered with Insep –a fitness centre boasting state-of-the-art equipment with a number of world boxing champions as trainers.
His new form speaks volumes of the gruesome training drills he endured there with majority fans exclaiming "this is the Balla Gaye we've known, he is back!"
The Lion of Guediwaye hails from a family of wrestlers. His father, Doubless, is a former arena and Eowas wrestling champion and younger sibling a phenomenon in the sport. It is a different case with Modou –the Rock of Parcelles. He does not come from a family with roots in wrestling but is one of the most stylish and feared boxers of the game including freestyles. Arguably, the smallest, Kharange Lo has troubled all the major stars of the arena he'd been paired with. His 20 career wins, two career defeats is a glowing testament while Balla, christened Omar Sakho, has 21 wins four defeats.
A win for Modou Lo pits him with Eumeu Sene current holder of the jewel who vowed never to fight Balla Gaye again owing to a row they had in 2015.