Ducor Sports Spotlight: Phiona Mutesi 'Queen of Katwe'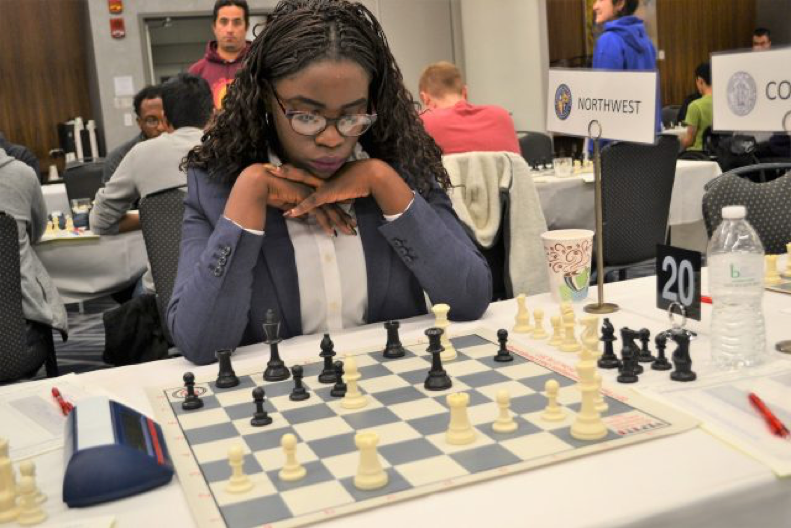 Uganda's Phiona Mutesi a.k.a Queen of Katwe recently guided Northwest University to its first ever Pan-American Intercollegiate Chess championships title when she and her team that includes fellow Ugandan, Benjamin Mukumbya carried out a 4-0 sweep against the defending champion, Oberlin College.
Currently a first-year student at Northwest, Mutesi was awarded a scholarship at the University when Northwest's coach, National Master Elliott Neff approached Northwest University on her behalf.  Dr. Joseph Castleberry, President of Northwest University says he was delighted to step up and he went ahead and granted Mukumbya a scholarship, he says it was a spur-of-the moment.
"Of course, all the attention was on Phiona and so I asked him whether he was planning to study in the U.S. as well," Castleberry said. "I learned he had not been offered any opportunities."
Early life
When I first saw chess, I thought, what could make all these kids so silent?" Phiona recalls. "Then I watched them play the game and get happy and excited, and I wanted a chance to be that happy."
Born in Katwe, Kampala, Uganda, Phiona started playing Chess from Agape church located in Katwe. Her coach, Katende showed her the pieces and explained how each was restricted by rules about how it could move. The pawns. The rooks. The bishops. The knights. The king. And finally the queen, the most powerful piece on the board.
Her first win came against Joseph Asaba, a young boy who had beaten her before by utilizing a tactic called the Fool's Mate, a humiliating scheme that can produce victory in as few as four moves. She was then introduced to the project's strongest players, Ivan Mutesasira and Benjamin Mukumbya, who agreed to tutor her. "When I first met Phiona, I took it for granted that girls are always weak, that girls can do nothing, but I came to realize that she could play as well as a boy," Ivan said. "She plays very aggressively, like a boy. She likes to attack, and when you play against her, it feels like she's always pushing you back until you have nowhere to move."
Within a year, she had beaten all kids, university students, and her coach. Credit was due to her ability to play on instinct instead of relying on opening and end-game theory like more refined players. She succeeded because she possessed that precious chess gene that allowed her to envision the board many moves ahead, and because she focused on the game as her life depended on it.
Phiona won the Uganda women's junior championship in 2007 when she was 11. She won that title three years in a row and the National team Coach at the time, George Zirembuzi said, "To love the game as much as she does and already be a champion at her age means her future is much bigger than any girl I've ever known, when Phiona loses, she really feels hurt, and I like that, because that characteristic will help her keep thirsting to get better."
In 2012, she became the first female player to win the Open Category of the National Junior Chess Championship in Uganda.
Internationally
Phiona competed in her first international tournament against adults and her first opponent was 24-year-old Dina Kagramanov, the Canadian national champion. Kagramanov preyed on Phiona's inexperience, by setting a trap early and gaining a pawn advantage that Phiona stubbornly tried and failed to reverse.
After her win, Kagramanov was shocked to learn that it was Phiona's first international match against an adult. "She's a sponge," Kagramanov said. "She picks up on whatever information you give her, and she uses it against you. Anybody can be taught moves and how to react to those moves, but to reason like she does at her age is a gift that gives her the potential for greatness." Kagramanov added.
In 2012, she was accorded the Woman Candidate Master title after scoring the required 50% from 9 games at the 40th Chess Olympiad in Istanbul, Turkey. This made her one of the first titled female players in Ugandan chess history.
Phiona has also represented Uganda at four chess Olympiads.
"I will be a grandmaster someday."
The day Phiona uttered these words; she could hardly believe them herself. She had just lost to a women's grandmaster from Egypt, Khaled Mona. She had been lured into her opponent's rhythm and played too fast which led to fatal errors. He coach, Katende was worried, but Phiona recognized that she'd been beaten by a better player. Instead of being discouraged, she was inspired. She then walked straight over to Katende and said, "Coach, I will be a grandmaster someday."
Phiona is right on track to become Chess Grandmaster as she is currently ranked Woman Candidate Master.  She, however, says she wants to first focus on education. She plans to major in sociology and use her degree to work with kids in Uganda. While her countryman Mukumbya hopes to become a neurosurgeon.
The birth of the chess club at Northwest University
The 21-year-old together with her countryman Mukumbya led Northwest University to their ever first Pan-American Intercollegiate Chess championships title in December 2017.
"I wouldn't have been here without chess," she said. "It's such a long story. I can't tell you right now. She, however, was not the brain behind the chess club, it was her countryman, Mukumbya who had brought his chess board from Uganda, determined to keep playing even as he took demanding pre-med classes.
Settling into his dorm room, he unpacked the chess board along with his other things, then went out. When he returned, roommate Walter Borbridge, a once-competitive player from Alaska, had started a game.
"Your move," Borbridge said.
Two months after their first chess club meeting, Mukumbya told the group, he expected the club to produce a team that could compete in intercollegiate competitions, and appointed Phiona, President.
Chess has taught Phiona a lot about life — how to use her aggression mentally, how to strategize and how to make the best use of her resources — and changed it at the same time.
She was ready to pass some wisdom on. "There is no reason to fear chess, it's not for smart people," she said. "Chess makes you smart."
Photo: Al Lawrence
(Visited 136 times, 1 visits today)