Gold Coast 2018 Commonwealth Games
Chad Le Clos Bags Africa's Second Gold Medal With First Ever 50m Butterfly Win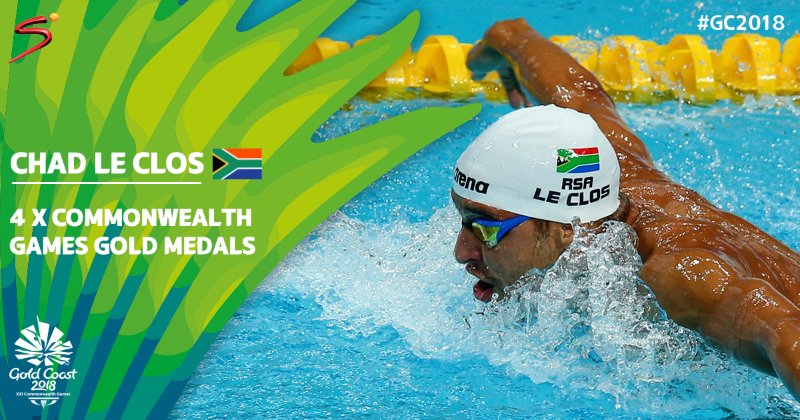 South Africa's Chad Le Clos won his first ever 50-meter fly butterfly in 23:37 to take Africa's medal tally to a disappointing three.
The four time World champion rebounded from his slowest start in the field to come through and take gold in the 50m fly three tenth of a second ahead of Tobago's Dylan Cater.
Le Clos took full advantage of title holders Ben Proud's absence to dominate the event. The English man comfortably finished first in Thursday's heats but was disqualified after making a false start in the semi-finals.
The 25-year-old gleefully seized the opportunity but later acknowledged that was lucky Ben Proud did not take part in that race.
"That's the only 50m medal I've won in long course. I've never been in lane four in a 50 final in my entire life. I didn't want to talk about it but if Ben Proud had been in the final, he would have won for sure. Fortunately, or unfortunately, I got the gold medal and am happy with that."
Carter came in second to become Trinidad and Tobago's first ever Common Wealth medal winner while South Africa's Ryan Coetzee finished third, three hundredth of a second ahead of Australia's Irvine.
After the win, Chad did a victory lap around the pool and was soon back in the water for the 200m freestyle final without any due preparations. He managed to lead half way but ran out of steam and faded away finishing seventh.
With 13 medals to his name, Le Clos entered the gold coast games targeting to surpass the Common Wealth Games most successful career record of 18 but after missing out on the 200 medal, he will have to wait until 2022 to surpass Phillip Adams and Mike Gault.
South Africa remains Africa's only medal winner with three but things will definitively change when field and track events begin.
(Visited 17 times, 1 visits today)