Senegalese Wrestling: The Humbling of Sa Thies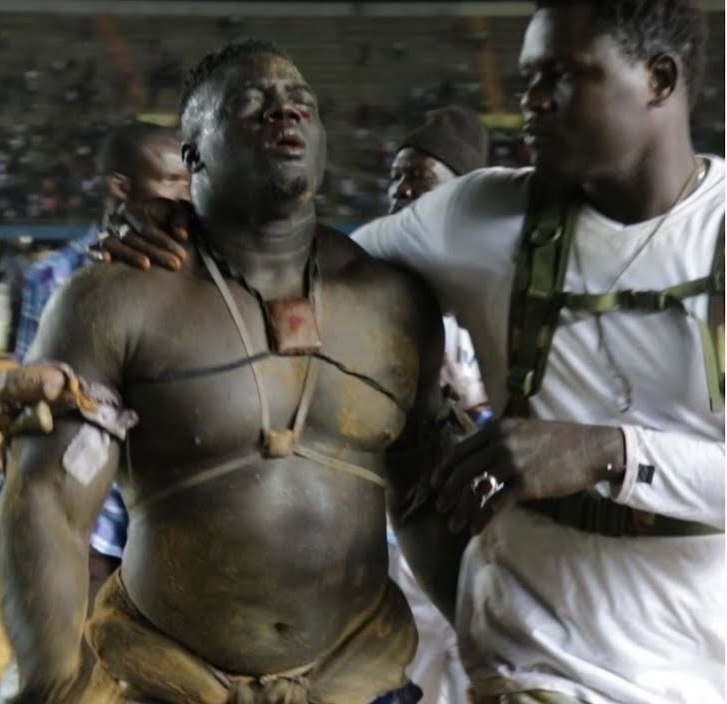 Boy Niang II on Sunday evening defied all odds to beat Sa Thies, sending shock waves across wrestling fans who witnessed a flat down smackdown of one of Senegal's wrestling stars. Sa Thies, brother to ex-King of Arena Balla Gaye II and favorite going into the fight, got thrashed in what was his second defeat after four years in the two-minute 46 seconds bout.
An explosive fighter, Sa Thies did just what was expected of him in the build-up to the duel – attacking.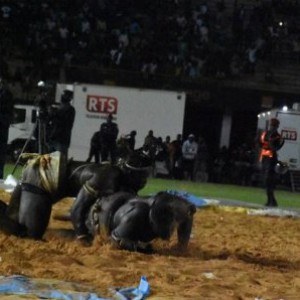 Photo:  Boy Niang wrestles down Sa Thies
The Guediawaye-born threw punches at Niang as they grappled. The Pikine-based star –Boy Niang – tripped him before holding him down.
Sa Thies recovered responding with volleys of blows indiscriminately. Niang then grabbed his adversary by the waist and pinned him down amid an uproar from fans.
A possible revenge match?
Sa Thies is one of the arena's most enterprised wrestlers and Sunday night's clash with Boy Niang was being viewed as something of a make or break tie.
The meeting was signed after the Pinkine-born accosted Balla Gaye II –brother to Sa Thies – at the start of the season, urging him to accept the proposal to fight him.
Balla, an A-list wrestler struggling to regain his rank in the wrestling fraternity after two straight defeats, turned down Niang's try-for-a-chance offer and instead recommended him to take on Sa Thies whom he shares the same division with in the second tier.
Boy Niang II hopes that his wish to face Balla – set to combat with Gris Bordeaux as expected later this month – comes true.
It is also not being ruled out that Sa Thies could demand for a rematch to avenge his second career defeat in as many combats.
Image: Sa Thies in disbelief after losing to underdog, Boy Niang II
(Visited 12 times, 1 visits today)